Making assessments and referrals
Levels of Need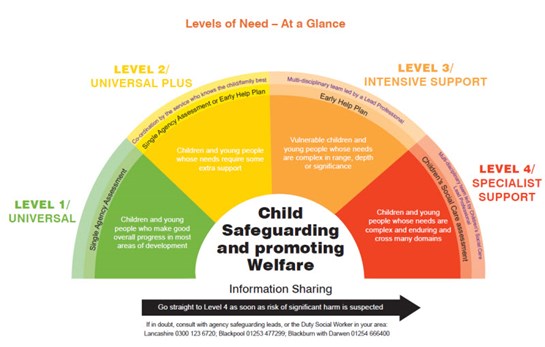 Levels of Need
The four broad levels of need are identified as:
Level 1 needs - Universal
Most families, children and young people will experience challenges in their lives that impact on their wellbeing. Most families will be able to weather these challenges (are resilient to them) either without help from services, or with advice, guidance and support from universal services, including empathy and understanding.
Level 2 needs - Universal Plus
Some families, children and young people will need support from people who know them well and have established relationships with them to meet some challenges where advice and guidance has not been enough to help the family achieve change or where a child or young person needs additional support to help them to thrive.
Level 3 needs - Intensive
A small number of families, children and young people will experience significant challenges and will need coordinated support from experts working with them to find sustainable solutions that reduce the impact of challenge on the wellbeing and development of children.
Level 4 needs - Specialist
In exceptional cases families need specialist, statutory support that is designed to maintain or repair relationships and keep families together wherever possible. In some very specific circumstances the needs are so great that children need to be away from their family to ensure that they are protected from harm and in these circumstances the local authority becomes their "corporate parent".
Full guidance – Working Well with children and families in Lancashire – will be published here soon
Common Assessment Framework
The Common Assessment Framework [CAF] is a key tool in the early identification of children and young people and families who may experience problems or who are vulnerable to poor outcomes and underpins the work of Early Help.
CAF documentation has been updated in August 2017 and can be accessed via the following link: CAF documentation
Referrals to Children's Social Care
Anyone can raise a concern about the safety and welfare of a child by calling 0300 123 6720 (or between 8.00pm - 8.00am on 0300 123 6722.)
However, where the needs of help and support meet Levels 3 and 4 of the Continuum of Need, professionals are able to submit a referral form directly to Children's Social Care via the Multi Agency Safeguarding Hub (MASH)
Before making a referral to MASH you need to consider if the child or young person's needs can be met by services from within your own agency, or by other professionals already involved with the family, including consideration to initiating a CAF.  You should consider Lancashire's Continuum of Need, threshold guidance and risk sensible model to inform your decision and also whether a referral to Lancashire Children and Family Wellbeing Service (CFW) will support an existing CAF Plan, particularly where the concerns at level 2 are more complex.  The CFW service offer below provides information about the services available.
The referral form must be completed as comprehensively as possible.  If you are a professional, you should always inform the parent of your concerns and that you will be making a referral and wherever possible seek their consent beforehand, except where a child is considered to be at risk of harm and you believe that seeking parental consent may increase this risk.  If you are unsure about thresholds or seeking consent please seek advice from your line manager.
When there are concerns about a child or young person at level 4 of the CON (child protection), you should make direct contact on 0300 123 6720 or the Police (999 in an emergency) and complete the referral form once the immediate concerns have been addressed.  If the child you are concerned about already has an allocated Social Worker go directly to this person by contacting 0300 123 6720 – there is no need to use this form.